Christmas markets Mallorca 2022 there are this year of course again. We say where you have to go!
Christmas markets Mallorca 2022?
Among the long-time island friends it is no longer an insider tip that the cold season in Mallorca is perhaps even the most beautiful season. I write the post here just at the end of October. At the moment it is 29 degrees during the day. And at night it cools down to a pleasant 14-15 degrees. 
A wonderful time to play sports, hike, take pictures, even drive a convertible.
The light makes winter in Mallorca something very special. The intensity decreases somewhat, the sun's rays hit the earth more flatly, nature shines in strong and contrasting colors. A beautiful spectacle, especially with the pronounced play of light and shadow in the morning and evening.
But what does that have to do with Christmas? At first, very little. But then we come to the topic of light on the beautiful and very atmospheric Christmas lighting, which is installed in Palma every year painstakingly. A good two weeks ago it already started, the countless strings of lights are wrapped on the Ramblas and on the Borne and in many other places also painstakingly around the trees.
First of all, we intuitively and wrongly assume that Christmas is not such an important issue for the Spanish. After all, it doesn't snow for them either. Apart from the fact that it (unfortunately) hardly ever snows in Germany, Christmas culture is actually very important here and is celebrated completely differently in parts. In fact, here it is the three saints who bring the gifts for the children at the beginning of January. Christmas Eve itself is spent in a rather relaxed and family-like way, whereas on the "Reyes Magos" there are big parades with fancy dress for the children. And after that the giving of presents. Beautiful and atmospheric! Read more in this post or watch the video of one of the par ades.
My favorite is the market in Puerto Portals, which starts this year on 16 December and goes until 06 January, from 12 noon to 9 pm! Note that it closes one hour later on Fridays and Saturdays and is open until 18h on 24 and 31 December. 
Last year's skating rink has been sensibly replaced by a roller skating rink - presumably in view of the energy crisis - this will not detract from the fun!  
Yes, the Christmas market in the Pueblo Espanol. It has become my secret favorite this year. Respect what is offered there!
Surrounded by a high wall, this place of about 7000m2 in the middle of Palma was conceived in 1965 as an open-air museum. It was intended to reflect the concept of a typical Spanish village. However, with scaled-down copies of famous Spanish buildings of the last few hundred years. So somehow very strange. But also very beautiful and very special. A really magical place. Like a Disneyland for grown-up architecture fans. And this is exactly where a great Christmas market is set up every year.
This year the spectacle goes from December 3 to 11, December 17 to 18, December 22 to 29 (except December 25) and January 2 to 8. Open from 1 to 11 pm.
People, it's worth it! Admission costs a hefty 10 euros per person. But there is also really what offered. According to the website of the pueblo, children do not cost admission. On site, it said that children up to 4 years would not cost an entrance fee. However, we have also paid for older children nothing. What is really true? Probably depending on the daily form of the ladies at the cash register...
For the rather proud entrance fee, there is a voucher for a mulled wine. Of course, I forgot to pick it up... In total, there are over 80 booths, I started with the Belgian waffles, but was a bit disappointed. I had wanted powdered sugar, the saleswoman then explained to me that the concept was yes caramelized sugar. Which is absolutely true, except that sugar only caramelizes when you leave it in the iron long enough. And not the pre-baked waffle only briefly heats up ... The 5, - Euro for this probably actually good product were unfortunately a case for the trash can.
Apart from that, there was no further disappointment: Culinary is really offered, one stand is dedicated only to truffles. A lot of Mediterranean delicatessen is offered. And it is grilled above all, what the stuff holds. From the original German grill master to the rocking BBQ masters at the wood fire.
And it gets really beautiful when the artificial snow is blown out. Fairytale-like. Then there is a "Papa Noel" (Santa Claus) and a children's carousel for the little ones.
As with any Christmas market here, you need to get there in time so it doesn't get too crowded. But at the same time it is of course much more atmospheric in the dark. So ideal seems to be about an hour before sunset. Parking spaces you get then just, but that may have changed 10 minutes later Our opinion: This Christmas market you should not miss. But make yourself a picture in the video and write us your opinion!
Which markets are not worthwhile?
The market at Plaça d'Espanya is basically not a real market, but more a collection of food stalls. But I find it good. And also the small rides, which were on the other side, so at the square next to the station last time, I find with children at least entertaining. A real Christmas market but does not replace in my opinion ...
I do not like the Christmas market - unlike the colleague in her post - at Plaça Major at all. I find the retort houses, which have so nothing Christmassy, just awful. And most of these stalls also have really strange assortments. To have seen him once on the way out of the parking garage once through? Why not ... More? No ... Who nevertheless likes, can romp there from 19.12 to 06.01.. More beautiful - even if not really beautiful - are the little shops on the Ramblas. At the very end, so at the junction to Calle Oms is my favorite waffle stand 🙂
Santa Ponça is said to be the Gelsenkirchen of Mallorca. Real "German natives" pronounce the c with the comma underneath consistently like a "k" even after twenty years of island love ... But apart from that, there is a Christmas market there. In a let's say parking lot type of place. But the last time I was there, with beautiful Holzbüdchen, good food stalls and lots of fun even for the little ones. 
Now I just tried to find out the date. And there I have to read unfortunately that due to the massively increased rent of the municipality the operator had to cancel the Christmas market this year .
But the doubled rent of 28.000, - euro for this area demanded by the municipality surprises indeed, if the information of the Mallorcazeitung should be correct here.
Hopefully next year the operator can come to an agreement with the municipality or move to Inca, I found the concept not perfect but atmospheric and entertaining.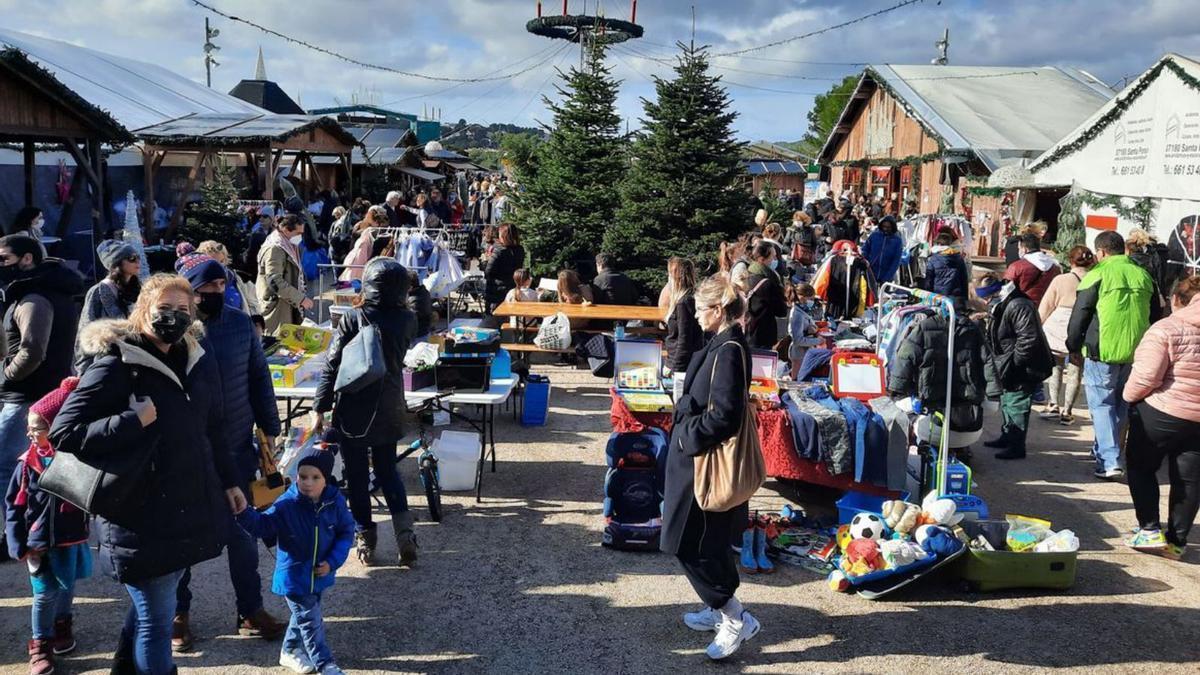 In this sense, I wish you a contemplative winter time. If you are in Mallorca, enjoy this special time and if you have visited one of the Christmas markets this year, then write in the comments, which one you liked best!
Society
What is the role of the Magi in Spain? Why is there a pageant on January 5? And what is this yeast wreath?
Read more "
Excursion
When there are which Christmas markets in Mallorca 2022? And which are recommended? We are at the start for you!
Read more "
Excursion
What are the best Christmas markets in Mallorca? We have again reviewed our results for you in 2022 ....
Read more "